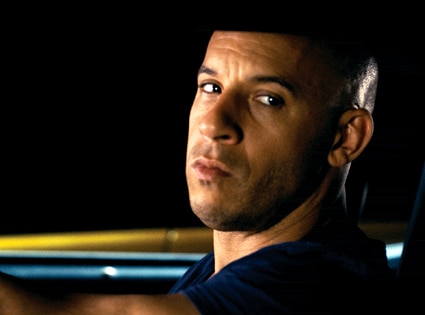 It must have been the thes that were the problem.
Shorn of its franchise's titular articles, Fast and Furious blew away its predecessors and the box-office weekend competition with an estimated $72.5 million Friday-Sunday debut.
The performance was the year's best opening by a mile. It was the car series' biggest by an even longer mile.
Drilling down into the numbers:
• The Furious franchise's previous best was the $50.5 million taken in by 2003's similarly the-lacking 2 Fast 2 Furious.
• With the articles, but without either Vin Diesel or Paul Walker, 2006's The Fast and the Furious: Tokyo Drift earned less in its entire run ($62.5 million) than Fast and Furious is expected to gross in 72 hours.
• Fast and Furious is the series' first movie to feature Diesel and Walker (and Jordana Brewster and Michelle Rodriquez) since 2001's original The Fast and the Furious.
• Overseas, Fast and Furious grossed $30.1 million, bringing its estimated worldwide haul to $102.6 million, Universal said.
• Some more Furious factoids: Biggest April opener ever; biggest Universal Friday-Sunday opener ever, topping 1997's Lost World: Jurassic Park, which, granted, made its $72.1 million back before movie tickets cost an arm and two legs; and, per its proud studio, biggest car-driven opener ever, topping even, yes, Cars ($60.1 million).
• That Adventureland ($6 million debut) wasn't Superbad ($33.1 million debut) was hardly surprising. That, as far as star-lacking, R-rated comedies go, it wasn't even Beerfest ($7 million) was a touch more so.
• Last weekend's No. 1 film, Monsters vs. Aliens ($33.5 million), held well, as animated films tend to do, although not remarkably well, as some animated films tend to do, as well. Ticket sales were down 44 percent.
• The reputedly $175 million Monsters vs. Aliens still has a lot of ground to cover its budget domestically. Its two-weekend stateside haul stands at $105.7 million.
• Watchmen watch: Out of the Top 10 after four weekends; crawled past the $105 million mark overall, with a $1.1 million Friday-Sunday take; nowhere near enough gas in the tank to match its reported $120-$150 million budget domestically; let the comic-book-movie carping begin. Or, well, continue.
• Sunshine Cleaning ($1.9 million) did it. Playing at only 479 theaters, 1,852 fewer than the next-"smallest" Top 10 movie, the Amy Adams indie comedy notched a 10th place finish.
• Liam Neeson's Taken ($1.6 million) exited the Top 10 after a remarkable nine-weekend, $139.5 million run.
Here's a complete look at the weekend's top-grossing films based on Friday-Sunday estimates as compiled by Exhibitor Relations:
1. Fast and Furious, $72.5 million
2. Monsters vs. Aliens, $33.5 million
3. The Haunting in Connecticut, $9.6 million
4. Knowing, $8.1 million
5. I Love You, Man, $7.9 million
6. Adventureland, $6 million
7. Duplicity, $4.3 million
8. Race to Witch Mountain, $3.4 million
9. 12 Rounds, $2.3 million
10. Sunshine Cleaning, $1.9 million