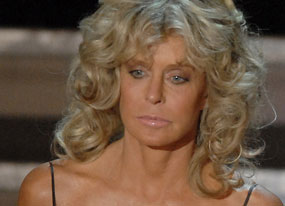 Farrah Fawcett's fight against cancer continues.
The 62-year-old Charlie's Angel, who was first diagnosed with the disease in 2006, has been hospitalized in Los Angeles since Thursday, according to People.
After undergoing chemotherapy and radiation, doctors said Fawcett was cancer free in February 2007, only to see the disease return three months later.
Later that year, she and ex-husband Ryan O'Neal traveled to Germany for embryonic stem cell cancer treatment, an alternative method not available in the United States.
Fawcett's recent hospitalization was first reported by Radaronline.com.