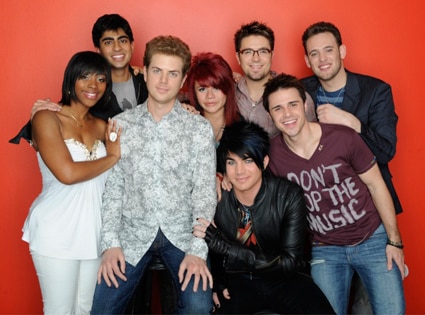 Something we never need to see again:
American Idol
's season-eight male finalists storming the stage en masse, singing the "la la la" chorus of Kylie Minogue's "Can't Get You Out of My Head."
Interesting choice.
Anyway, the Idol field is down to seven after another ceremonious booting Wednesday.
Adam Lambert was the first to be declared safe, one night after bringing Simon Cowell to his feet with an achingly good version of Tears for Fears/Gary Jules' "Mad World." (Which, by the way, Jules really enjoyed.)
Also in the clear, despite a lesser showing yesterday, was cutie Kris Allen and the soulful Matt Giraud, who nicely rebounded after being in the bottom last week.
But ultimately three of the others had to sit through a Kellie Pickler song wondering if they were done for the season. And then one had to sing for survival.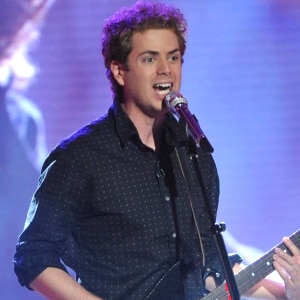 Unfortunately, that one was Scott MacIntyre, and an encore of his Tuesday offering—Survivor's "The Search Is Over"—wasn't nearly enough to convince the judges that his run should continue. The vocals were better this time, perhaps because he wasn't distracted by his guitar, which didn't seem as organic to his balladeer vibe as the piano does.
"Two people think you should stay and two people think you should go," Simon Cowell said before ultimately issuing the final decision.
"This is really tough. I really, really like you, Scott…"Someone's got to make a decision here.
I'm going to say it's the end of the competition [for you]."
(Really, this just proves how ridiculous the sing-for-your-life thing is. A repeat of something the judges hated won't help you and if they already have it in their heads to save you—ahem, Lil Rounds—it doesn't matter what you sing.)
Anyway, it was the end of the road for Scott, an inspirational fan favorite who, as Idol's first-ever blind contestant, immediately burrowed his way into viewers' hearts when he auditioned in Phoenix ages ago.
Joining him in the bottom three were Anoop Desai, who was in decent form last night, and, for the first time, Lil, whose Tina Turner impersonation was wholly unimpressive.
Allison Iraheta and Danny Gokey are also still along for the ride.
Meanwhile, the competition is shaping up nicely—no untimely, viewer-decided eliminations yet (except Alexis Grace, but anyway...)—and we're looking forward to what the Top Seven comes up with next week.